महात्मा गाँधी पर निबंध – Mahatma Gandhi Essay in English
Mahatma Gandhi ji, who is known as Bapu ji of India, has made his important contribution in the independence of India and has served the people throughout his life to make the life of the people of India happy, we all know about that great person. Today we will know and we will learn from his life that how Pujya Bapuji, who walks on the path of truth and non-violence of India, advises all of us which path to follow and how we can fill our life with joy and happiness. Will be able to move forward in life, we all bow down to Bapuji and today we try to know more about Mahatma Gandhi on our holy day.
महात्मा गांधी जी जो भारत के बापू जी के नाम से विख्यात हैं भारत की आजादी में अपना अहम योगदान दिए हैं तथा भारत की जनता के जीवन को खुशहाल बनाने के लिए अपना जीवन पर्यंत लोगों की सेवा की है उन महान व्यक्ति के बारे में हम सभी लोग आज जानेंगे और उनके जीवन से हम सीख लेंगे कि किस प्रकार से भारत के सत्य और अहिंसा के मार्ग पर चलने वाले पूज्य बापूजी हम सभी लोगों के लिए कौन सी मार्ग पर चलने की सलाह देते हैं और कैसे हम अपने जीवन को हर्ष और खुशी से भर पाएंगे अपने जीवन में आगे बढ़ पाएंगे उन बापू जी के चरणों में हम सभी लोगों का शत-शत नमन है और आज हम अपने पूज्य दिन में महात्मा गांधी जी के बारे में और अधिक जानने का प्रयास करते हैं
महात्मा गाँधी पर निबंध – Mahatma Gandhi Essay in English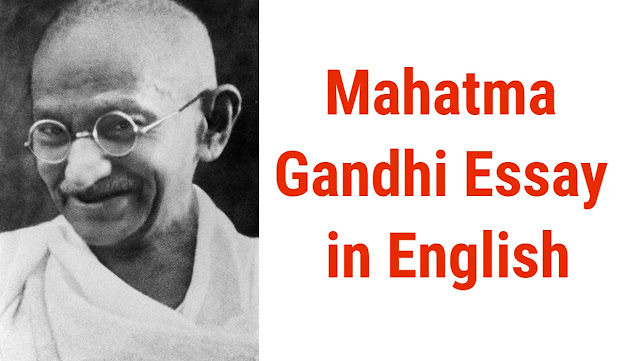 Mahatma gandhi was a great men of india he was a servant of mankind he was the father of the nation countrymen called him bapu.
His full meme was mohandas karamchand gandhi.
He was born on october 2,1869, at porbander
His father was a diwan of rajcot.
He received his education in india and england.
He became a barrister in 1891 mohandas returned to india and went to practice at the bombay courts he wont to south africa to solve certain legal problems faced by the indians living there due to oppression and suppression of the british rulurs.
Ghandi became the leader of the south african indian community he introduced non violent non cooperation movement which proved successful and the indians werw no more oppressed by the government after a few years gandhi returned to india and joined the india national congress to fight the couse of liberation of india from the british rule He also made a lot of efforts to destroy the tradition of untouchables from Indian society and due to this he also gave the name of "Harijan" to the untouchables which mean "People of God".Mahatma Gandhi was a great social reformer, freedom fighter & the aim of his life was to liberate India.And on serving the country, this Mahatma died on 30 January 1948 and was cremated in the presence of millions of supporters at Rajghat, Delhi & this day in his memory celebrated as Martyr's Day in India